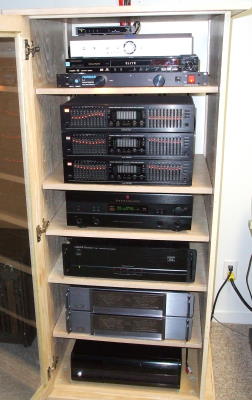 Inside the cabinet is the meat of the audio and video
system; From top, an HDMI Switch, DirecTV HD
receiver, Pioneer Elite DVD player, Fuhrman Power Conditioner, 3 BSR Equalizers, a Parasound preamp, a
Carver 5-channel THX Amp, two Carver M-500t Amps,
and my HTPC computer for recording DirecTV broadcasts.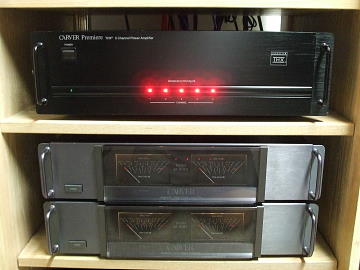 The main "power plants" for my audio system are these three Carver power amps seen here: a Carver Premier 705A 5-channel home theater amp with 200 watts per channel, used for the Center and Rear channels, and two Carver M-500t amplifiers configured for bridged-mono mode at 700 watts each, which drive the two front-main speakers. Along with the 1,000 watt powered Subwoofer in the mix, there is over 3,000 total watts available to create a very intense aural experience!