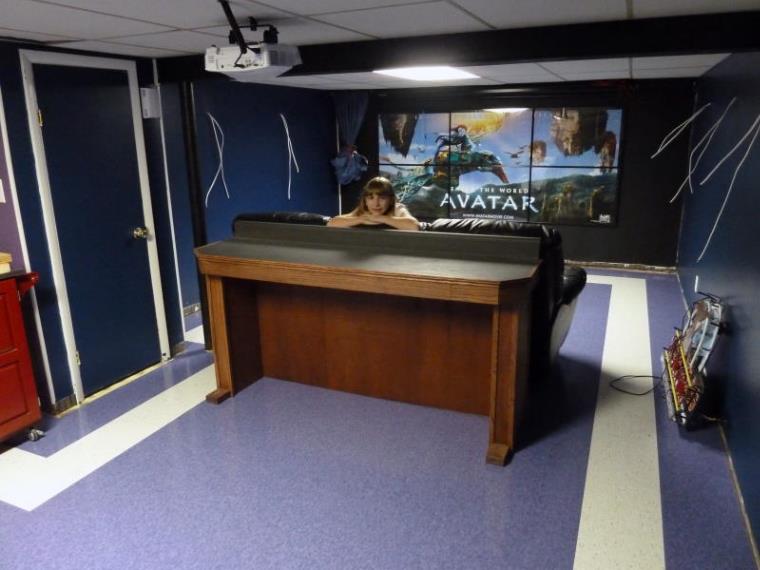 The sofa and bar counter are back in place on the new floor. My daughter checks out the new digs for the
"new and improved" Frey Theater, as it slowly takes shape once again!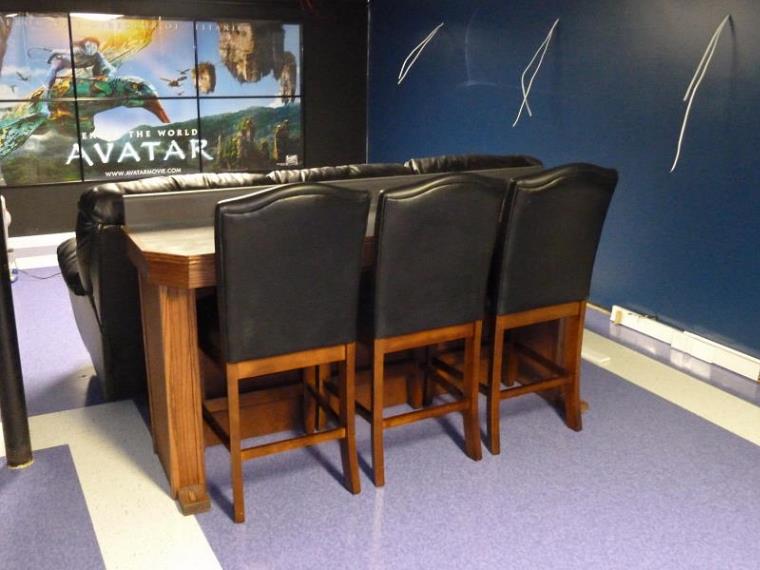 Three cherry and black leather barstools were purchased locally from an ad on Craigslist.
They definitely match the bar and the sofa perfectly!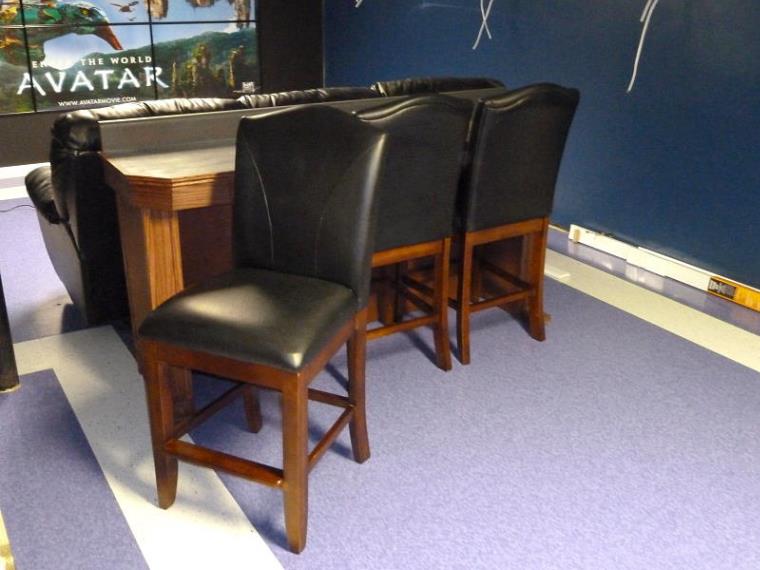 The three 25" bar stools are only a few years old and cost over $1200 new, according to the seller.
I purchased them for just $95 each – an awesome deal!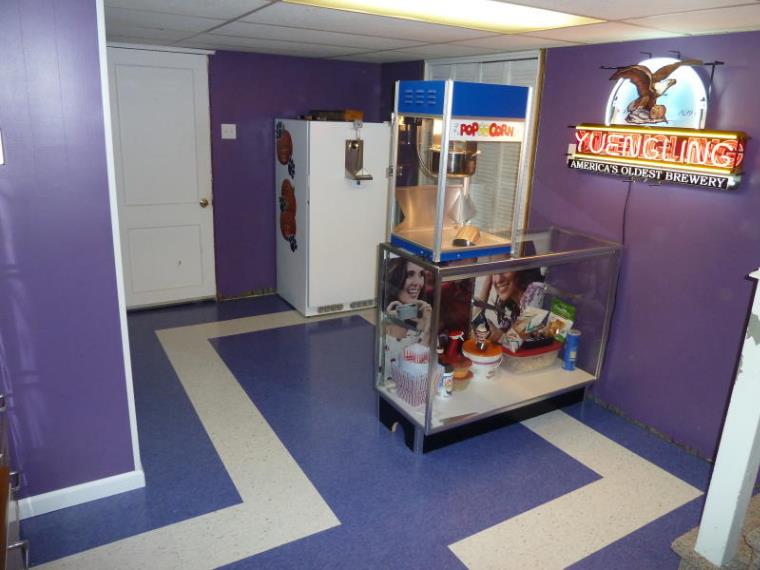 I decided to open up the snack bar area so there is more room for people to move around during intermissions or snack breaks.
The glass candy counter and commercial popcorn machine were moved over near the keg refrigerator,
creating a nice "refreshment area."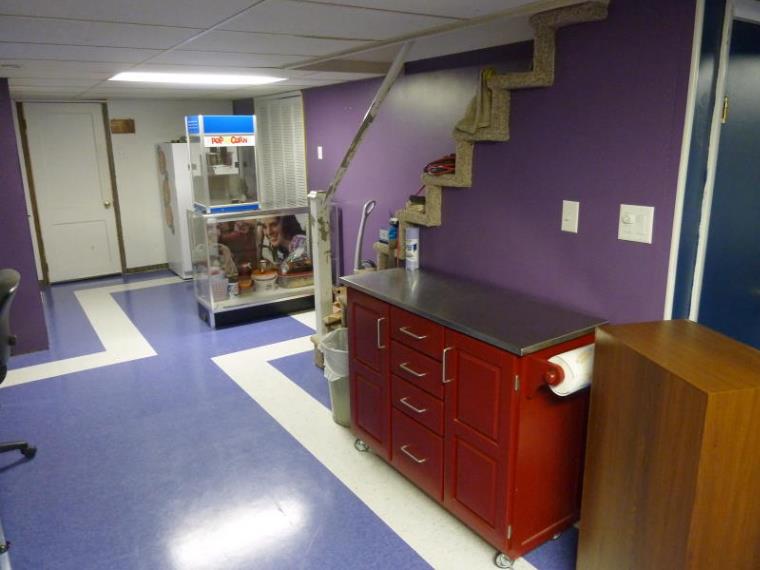 The red kitchen cart has been returned to its original position against wall under the stairs. Snacks and drinks are set out
on the stainless steel counter top for all theater guests to eat during snack breaks.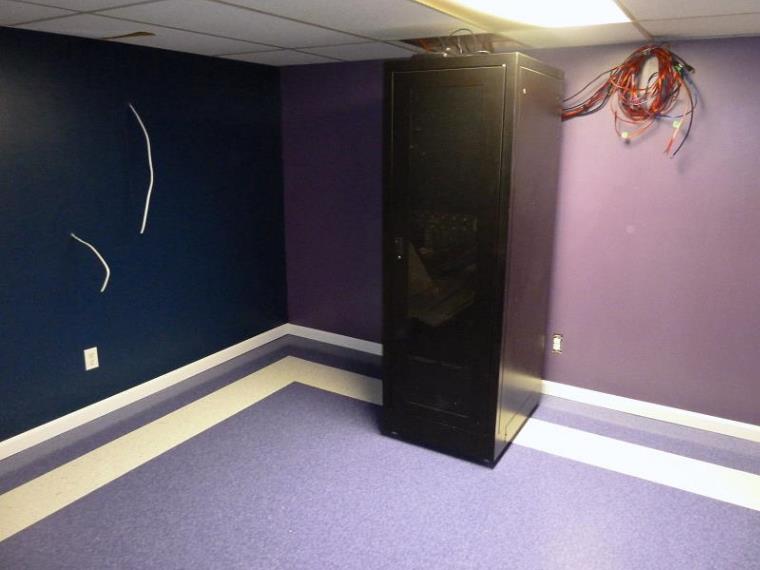 White vinyl baseboards will be installed along the walls to replace the wood baseboards that sucked up water from the flood.
Vinyl baseboards will be impervious to water damage if any flooding of the basement ever occurs in the future.
Here two pieces of baseboard are stood up against the walls just to check the finished appearance – looks great!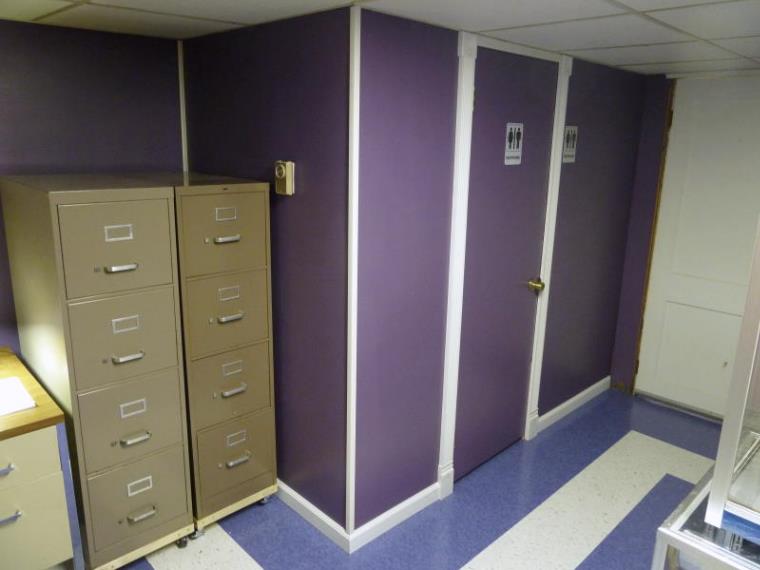 The bathroom walls are the first to have the baseboard and door trim installed. A door sill will need to be added to
finish off the transition from the VCT tile to the vinyl flooring inside the bathroom.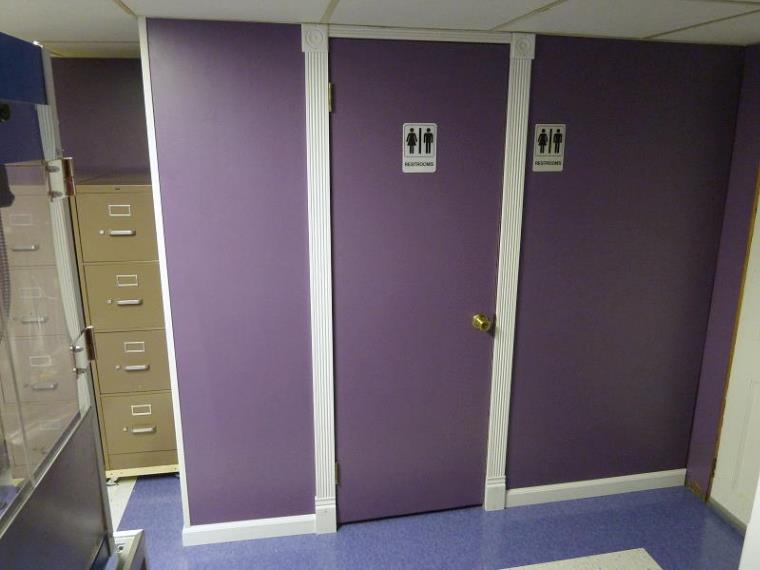 Which way to the restroom?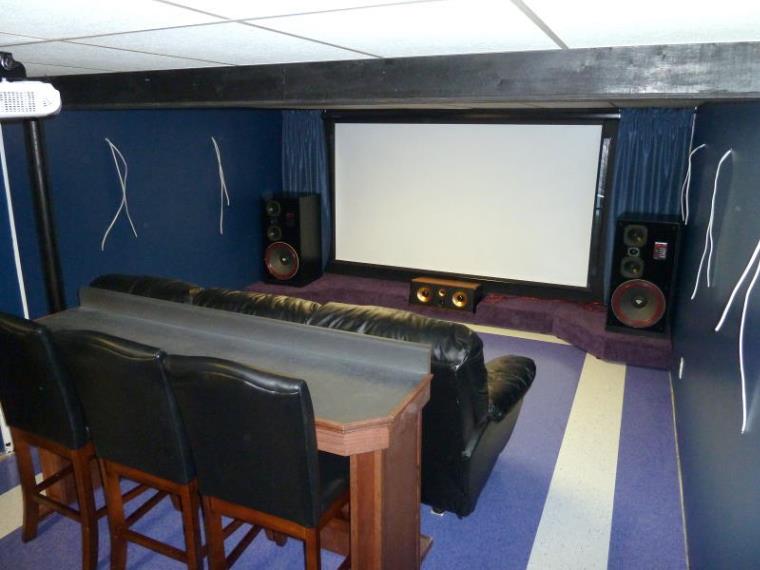 The Frey Theater lives again! The stage and all the speakers have been moved from the storage shed
and back into the theater room – won't be long now until the theater is back into operation!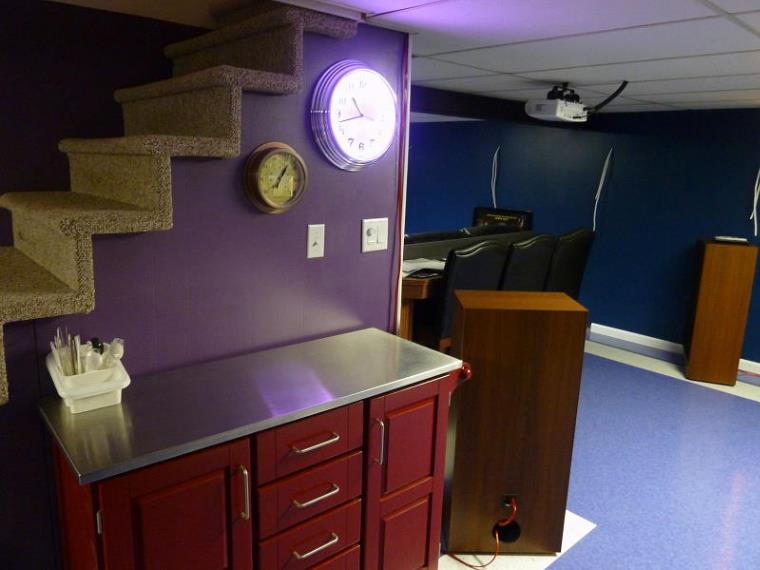 A new addition to the snack bar area is this wall clock with a purple neon face, to match the new room décor.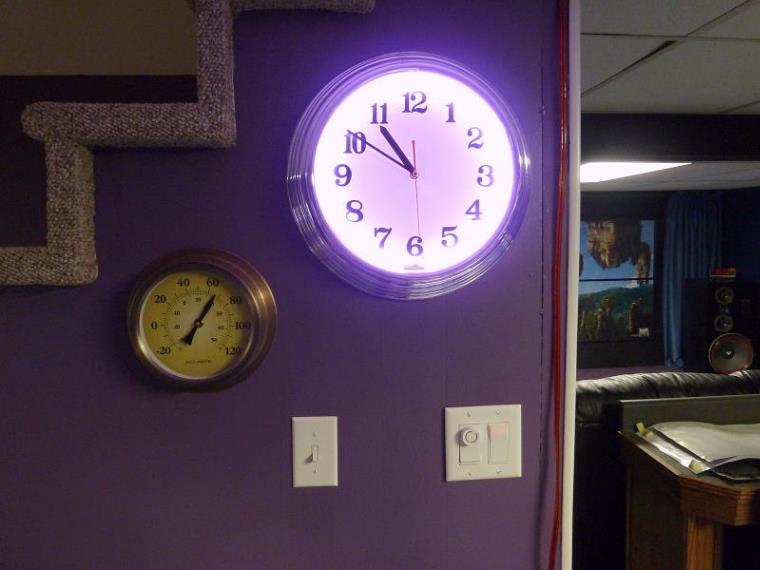 The neon is a light purple color, and blends well with the plum walls - it's hard to see the actual color in these photos.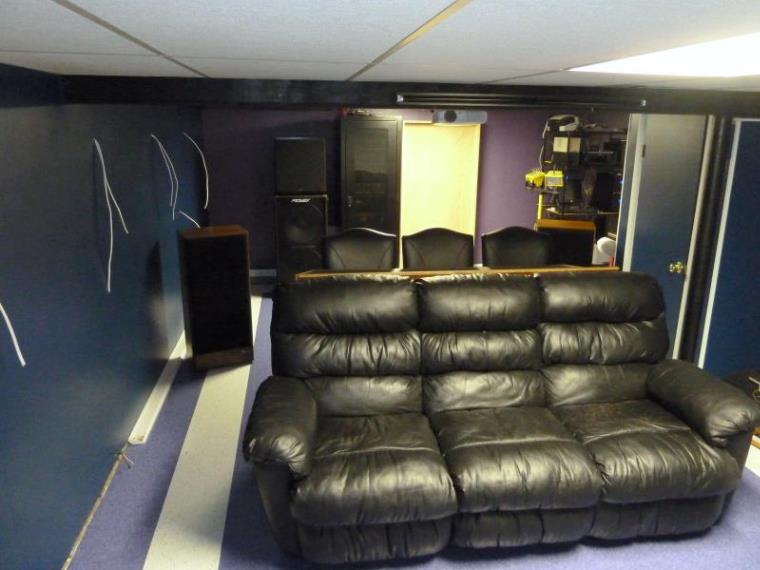 A view from the stage looking towards the rear of the theater area – The rear speakers and subwoofers, and the AV Cabinet,
are back in their places. I moved one of the media shelves in place to verify the mounting positions of the shelves – but they will be getting a few coats of paint before being re-installed…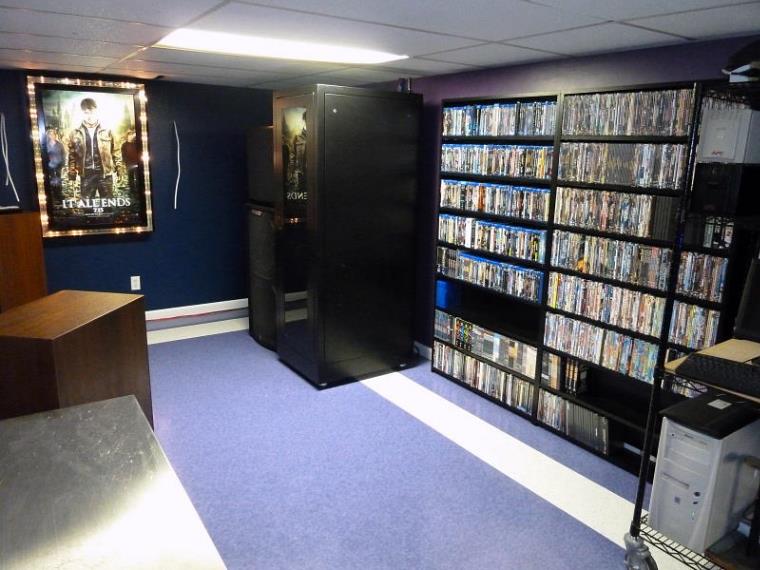 The media shelves were painted with a coat of primer and two coats of black paint, and have now been mounted back onto the walls and restocked with my movies. The black definitely looks much better than the bare wood shelves they were before the flood.