Audio
The 5.1 Surround Sound system currently installed in the theater features a very high-end Parasound 7100 surround processor (at right). This $3,000 preamp has the extra 2 rear channels required for 7.1 sound; the theater sound system will most likely be expanded to this format at some later date.
Audio from the Parasound processor is then run through three BSR EQ-3000 equalizers (second photo down), allowing fine tuning of each of the 5 main audio channels before they are sent on to the amplifiers. One bank of lighted controls is used for each channel; currently, the upper unit's right bank is unused. These BSR EQs have blue fluorescent Frequency Analizer displays in the center of the front panel, which look awesome in the dark when audio is playing through them!
The center channel and the two rear surround channels are handled by a Carver AV-705A 5-channel THX amplifier (third photo, with red LEDs) that supplies 200 watts into 4 ohms to each speaker. Since the amplifier is currently only driving 3 channels, there are two spare channels that are available for use when the audio system is upgraded to 7.1 sound.
The two Front Main channels are driven by two Carver M-500t amplifiers (third photo, with meters). The Carver amps each have two huge analog VU meters on their front panel, and are setup for bridged-mono mode. This sends 700 watts of power to each Front speaker, with one amp driving one speaker!
The theater's speaker configuration boasts some very large and very loud speakers - the two Front channels drive a pair of Cerwin Vega SE-380 speakers with 15" woofers (below left photo). Each of these massive loudspeakers can handle up to 1000 watts peak, and each cabinet weighs a whopping 95 lbs! The rear surrounds are a pair of Infinity SM-152 speakers, also with 15" woofers (center photo below), each with a power rating of 300 Watts RMS. All four of these speakers are 4 ohm and have an impressive 102 db/watt sound efficiency! For the Center Channel, a Premier Audio PA-8 speaker with dual 8" drivers is positioned directly under the movie screen (bottom left photo).
The lowest frequencies in this setup are handled by a custom-made 15" Nuonic subwoofer (two center photos below). The driver has a 1500 watt power capability and an aluminum speaker cone. The massive speaker is powered by an internal 1000 watt RMS amplifier mounted in the back of the cabinet. This awesome sub can really shake the house foundations, pushing out powerful bass all the way down to an incredible 10 Hz!

Parasound 7100 Surround Processor/Preamp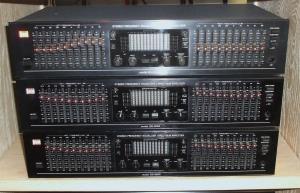 Three BSR EQ-300 Equalizers with Frequency Analyzers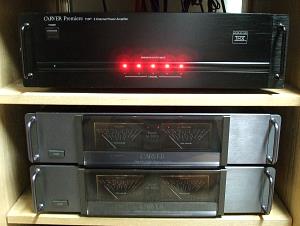 C
Carver Premier AV-705A Amp and two Carver M-500t Amps