Background

In April 2007 I moved into a small ranch house in Manheim, Pennsylvania. I had previously setup a very basic Home Theater projection system in the unfinished basement of my former residence, so one of the prerequisites for my new home was to have available space to install and improve my theater. Fortunately, I was able to find a home with a finished basement which included a 13'x25' area fairly well suited for my new home theater.

Over the years I continually worked on the interior design of the theater to make the room look more like an actual movie theater. I built a carpeted wood "stage" in the front of the room for the front and center surround speakers. I installed seven columns with light sconces on the walls, and painted the walls dark blue and plum for lower light reflectivity. A movie poster light box with marquee-style race-lights was mounted on the theater room wall, along with several other framed movie posters. I designed and constructed a counter with bar stools for the 2nd row seating. Powerful transducers, or "Butt Shakers," were installed under all three seats in the front row sofa, to add awesome sensory vibrations which really draw my guests into the movie viewing experience! I also purchased a commercial popcorn popper, glass candy counter, and a kitchen cart for use in the snack bar.

The Frey Theater tragically flooded in September 2011, so much of the room had to be rebuilt. New walls, flooring, electrical service, and lighting was installed. The theater's video was upgraded in February 2012 with a new 1080p 3D Epson projector, so the Frey Theater is now fully 3D capable. It will probably be an on-going process over many years before the room decor and A/V equipment is completely set up the way I wish, but that won't prevent me from showing movies to all my friends and family in the meantime. As they say in the theater business...

"The Show Must Go On!"

Troy Frey, Proprietor
The FREYMAX 3D Theater - Theater Room Photos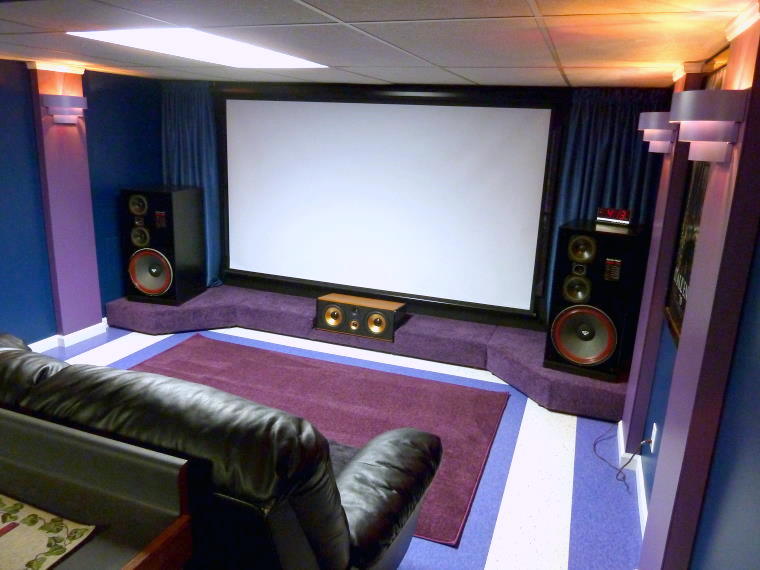 A view of the Frey Theater with its carpeted stage, 15" front speakers, and large 120" motorized projector screen. New additions to the theater after the Tropical Storm Lee flood are the lavender Vinyl Compostite Tile floor,
and seven wall columns with dimmable art deco light sconces.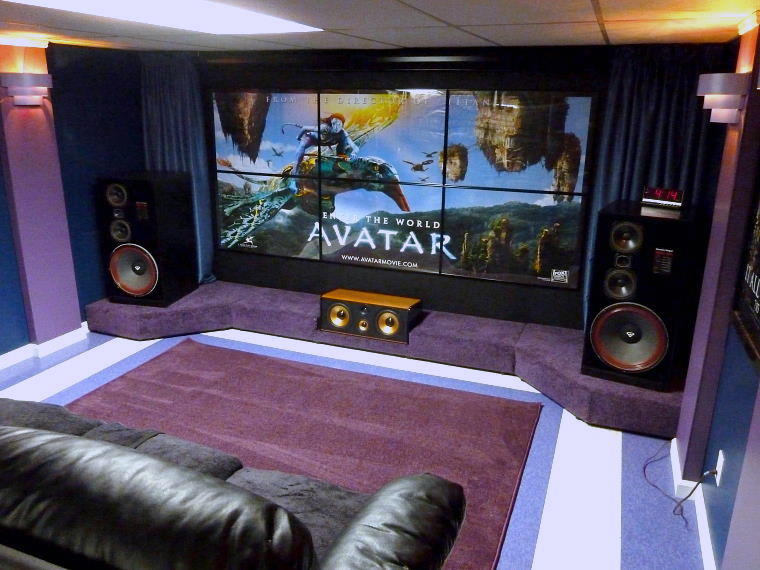 A 48x108 6-sheet Avatar movie poster hangs on the wall behind the movie screen, and is visible only when the screen is raised. The six sheets that make up this oversized mural are individually mounted inside 24x36 black aluminum poster frames.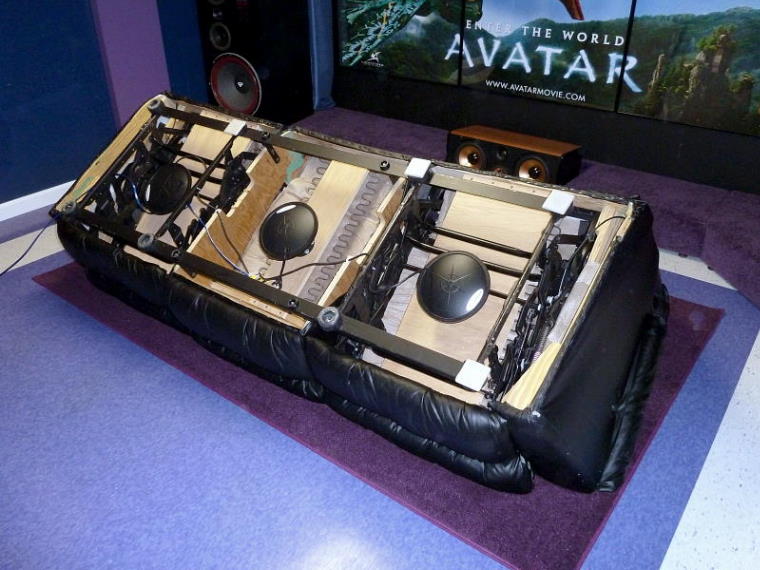 Mounted under each of the 3 seats in the sofa is a powerful Clark transducer, or "seat shaker," which adds yet another dimension
to the 3D viewing experience - so the Frey Theater can actually be considered a "4D" theater! I have since replaced the Clarks with three Buttkicker piston units with a matching 1000 watt Buttkicker amp, which has increased the sensation even more - so I now have plenty of "oomph" during explosions, crashes, gunshots, or other strong low-frequency events during a movie or concert video.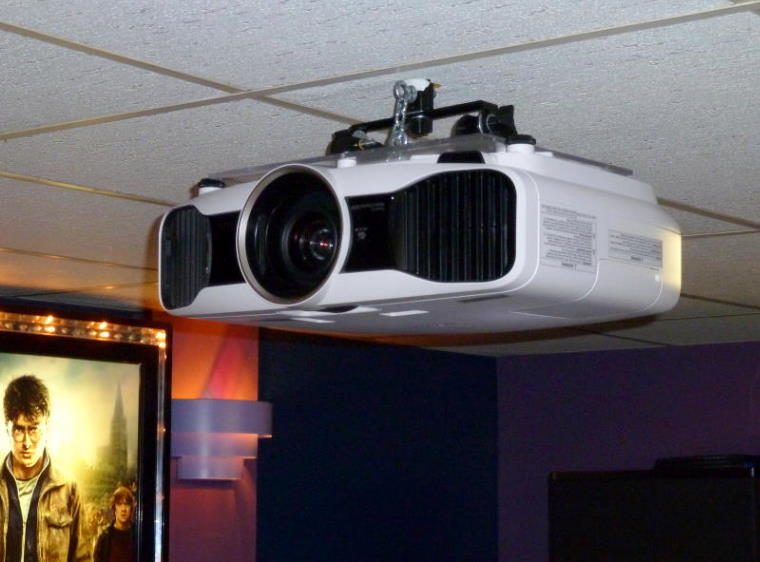 An awesome addition to the Frey Theater in 2012 - a new 3D projector! This is the Epson Powerlite Home Cinema 5010.
It will project 3D video from 3D Blu-rays, and will also do 2D to 3D conversion.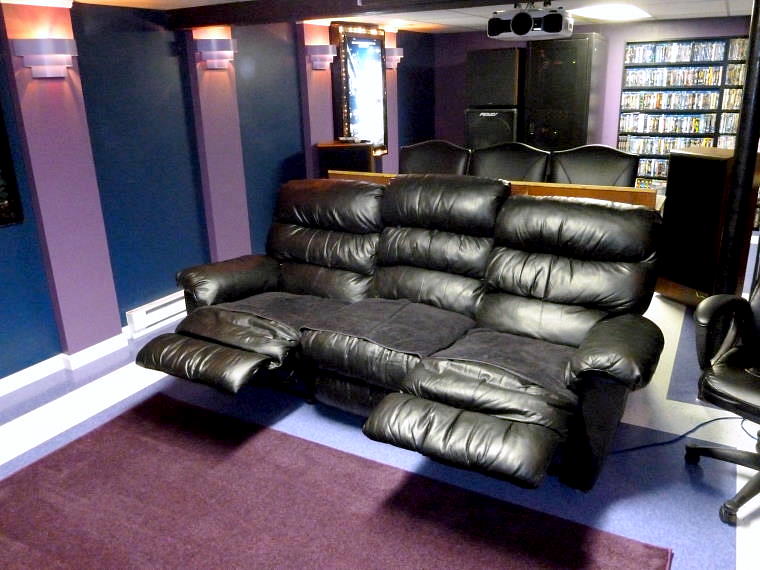 The front row seating area for the Frey Theater features a leather sofa with reclining seats at each end.
Powerful Buttkicker units (seat shakers) are mounted under each of the three seats, creating an incredible sensory experience!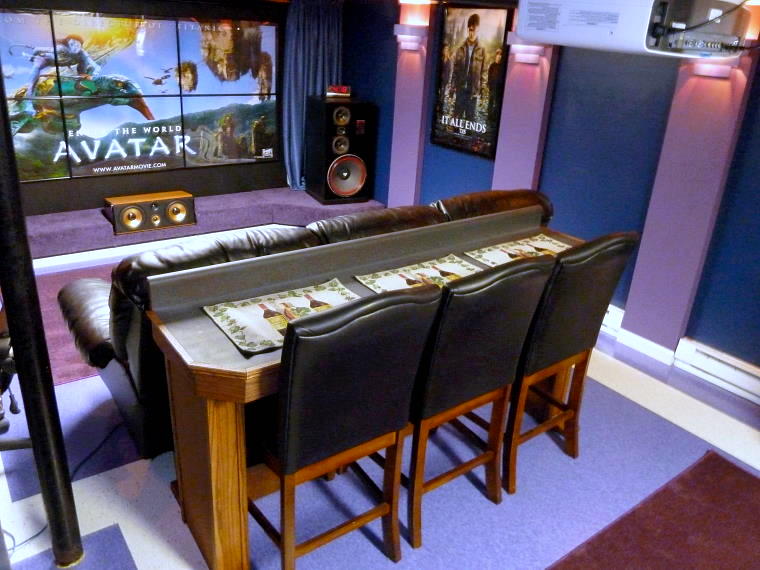 Second row seating features a 3-seat red oak bar I built from scratch using a 6' scrap piece of Formica counter top, on which patrons can set their food and drinks on during the movie. Solid cherry bar stools with soft, comfortable leather seats complete the set. The blue wire running across the floor to the sofa is the audio cable for driving the Buttkicker seat shakers.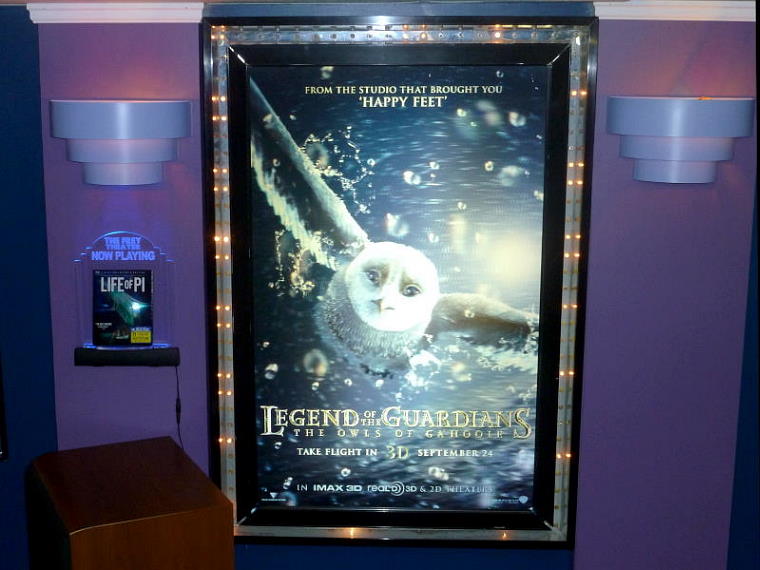 One of my most prized possessions in the theater room - a 15 lens-per-inch 3D lenticular poster of one of my favorite 3D movies. This poster is made of a plastic lenticular sheet almost 3/8" thick, and the 3D depth and pop-out is amazing - the floating water droplets appear to hover up to a foot in front of the poster's surface! This particular Lenticular poster can sell for upwards of $500.
On the left column is a custom-etched Frey Theater Blu-ray display stand, with blue LED illumination.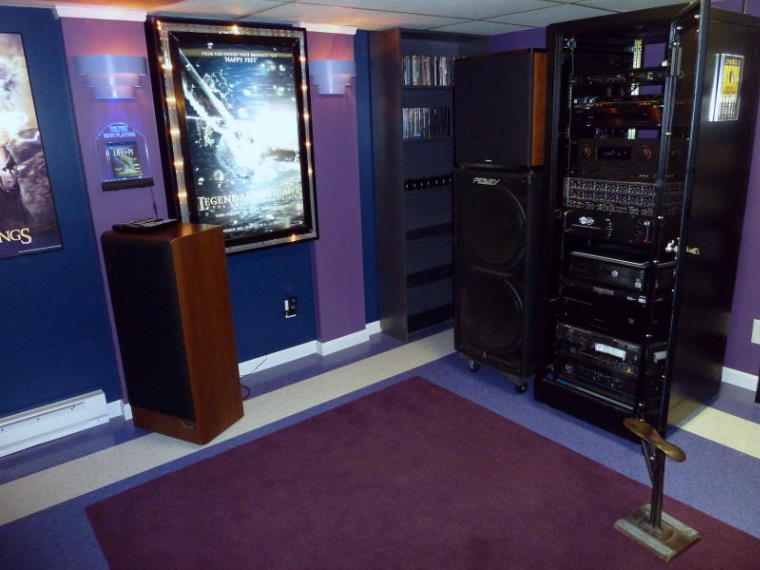 A dual-18" pro audio sub, driven by an 1800 watt QSC PL2 amplifier, and a 1000 watt 15" Custom-built Nuonic Sub make up my Subwoofer system. The six-foot rack mount Audio/Video cabinet is almost full with the
equipment needed for an ultimate theater experience!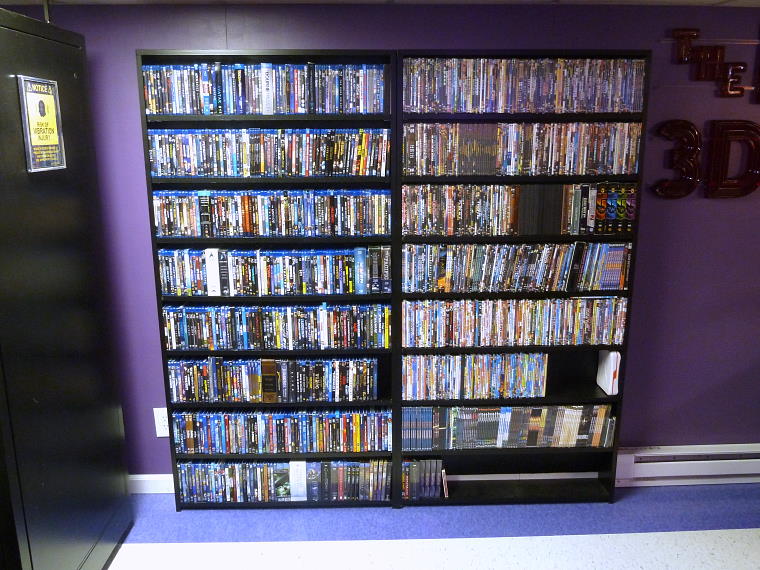 The 6' x 6' media rack was scratch built from 1x6 lumber, primered and painted black. It is currently almost filled to capacity, with 500+ Blu-ray movies, 90+ 3D Blu-ray movies, and over 1000 DVDs in slimline cases.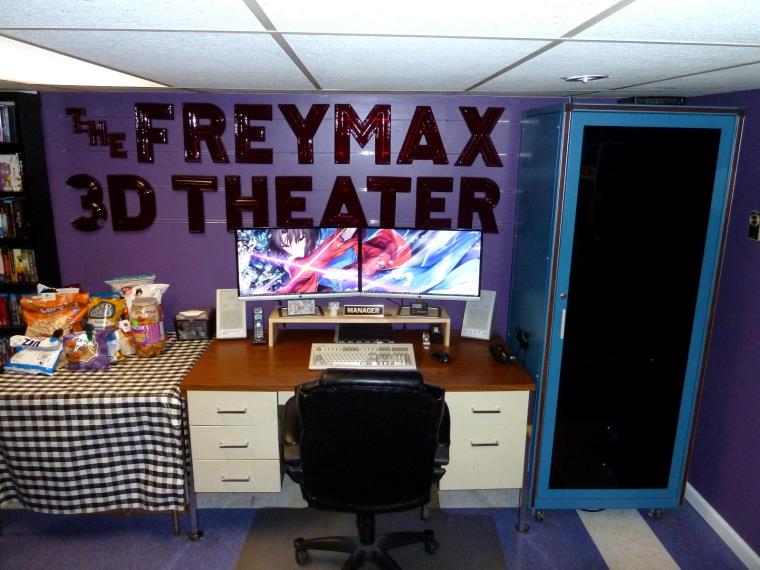 Next to the media shelf is the "managers office," my computer desk and server cabinet - the only non-theater equipment in the theater room. On the wall behind the desk are actual 12" commercial Snaplok marquee letters mounted on 6-foot channel strips, exactly like the ones used on real movie marquees!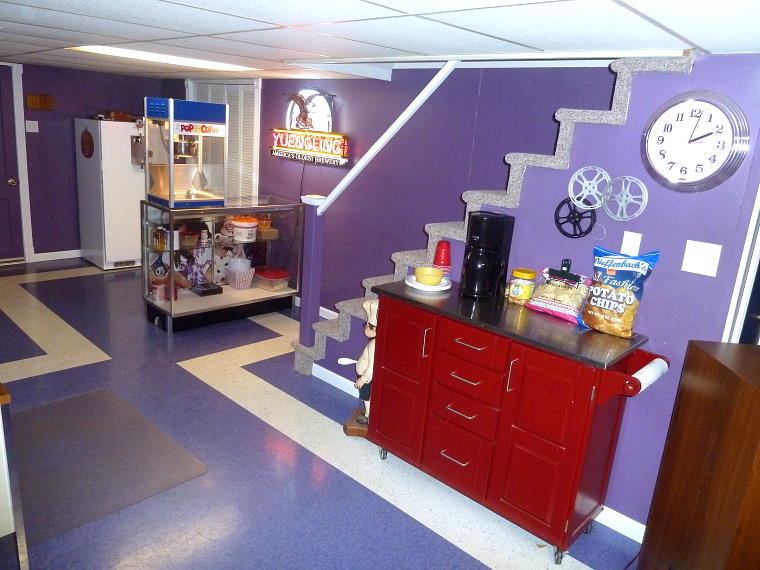 The large snack bar area in the rear section of the theater room features a keg refrigerator with a beer tap on the door,
a commercial-grade 6 oz. Gold Medal popcorn machine, a 4' glass display case for candy and other food items,
a neon "Yuengling, America's Oldest Brewery" sign, a kitchen cart with stainless steel top, and a purple-neon clock.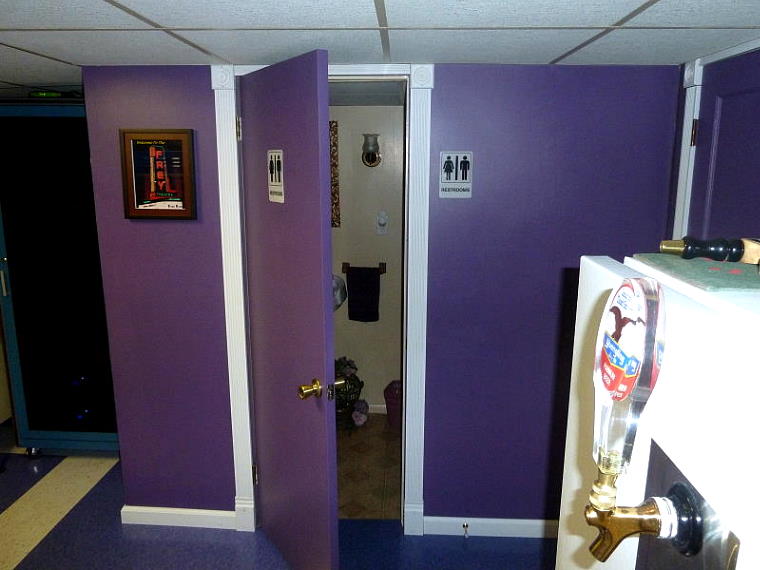 A small restroom with toilet and sink completes the snack area - a very necessary convenience with a keg fridge nearby!!
My luxuriously-appointed gold-plated beer tap with Yuengling Premium Beer handle can be seen in the foreground.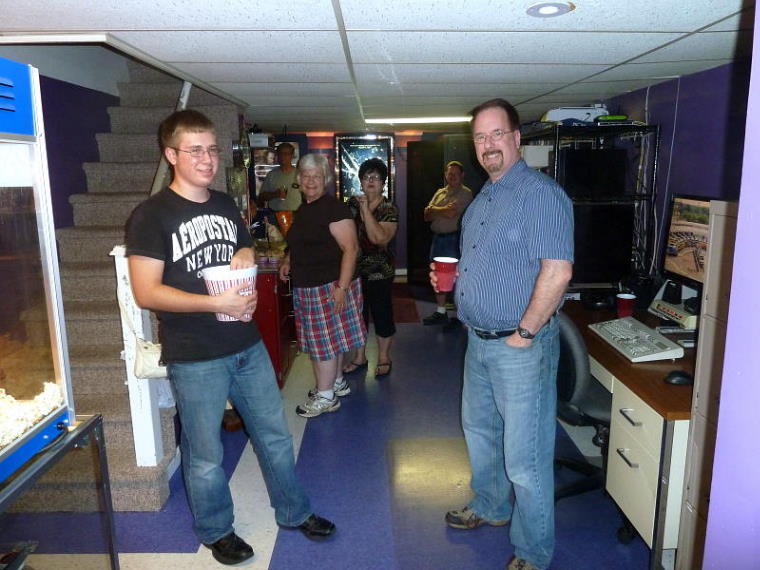 During Monthly Movie Nights, I always stop the movie at the midway point for a 15 minute intermission.
Time for some popcorn, snacks, and drinks - and usually a pit stop for everyone, too, lol!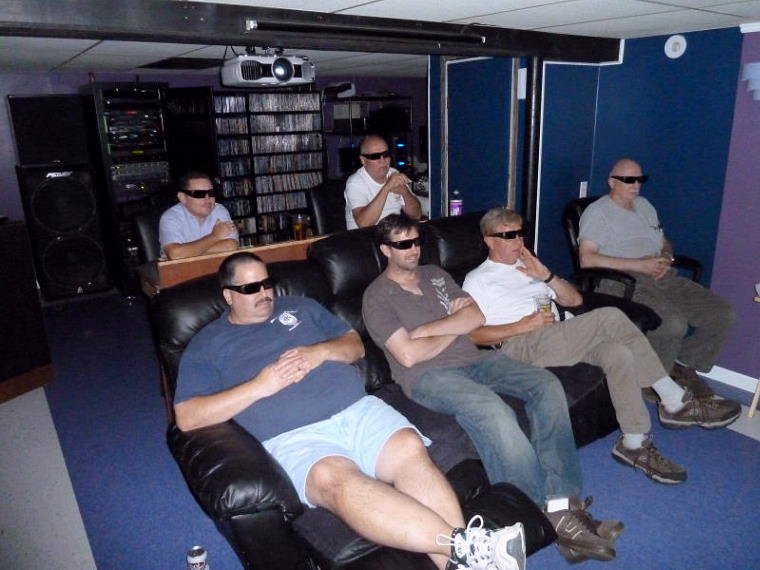 An enthusiastic crowd is seen enjoying an awesome 3D Blu-ray movie in the FreyMAX 3D Theater.
Please put your 3D glasses on now - the movie is about to start!